Kitchen Remodeling
Custom kitchen remodel projects are one of the most important home remodeling tasks you can undertake. We recognize that your kitchen is the heart of your home and at the core of your family and personal relationships. Our renovation and design team takes an extremely detailed approach in designing your space and remodel to ensure that the functionality and appearance of your kitchen meets your entertaining needs and personality.
Being a highly rated Design/Build firm ensures that your luxury kitchen remodel design is not limited or jeopardized. Whether a structural wall needs to be removed, plumbing or electrical work needs to be relocated, or brought up to code, you can rest assured that our licensed kitchen professionals and contractors are able to accommodate your design needs.
We have an experienced staff that will provide you with the latest materials to make every aspect of your custom kitchen remodeling ideal for your specific goals. From granite fabrication to wood cabinets, our professional kitchen design staff can explain which materials would work best and where. Are you looking for a tile floor? Perhaps you want a new kitchen island with granite countertops? Whatever ideas you may have, our company of kitchen design specialists will work with you to create a layout that meets your exact specifications. Then our kitchen construction staff will build or renovate your design in a timely matter, staying within budget and on track.
Our qualified professional kitchen and bath remodeling team can assist you in creating the luxury kitchen of your dreams. For more information on our Long Island-based kitchen remodeling contractors, email us or call (516) 481-4707.
View Our
Kitchen Design Guide
Benefit from our experience!   
With 25 years experience adding on to our customer's homes, we have some really terrific floor plans for yours. 
Every project is custom, but our design guide can get you started in the right direction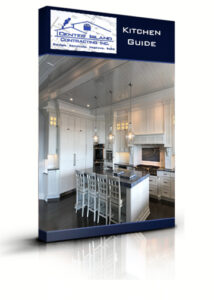 Thank you for your interest in
Our Floor Plans that Work.
This interactive guide of beautiful, full page layouts will be emailed to you immediately