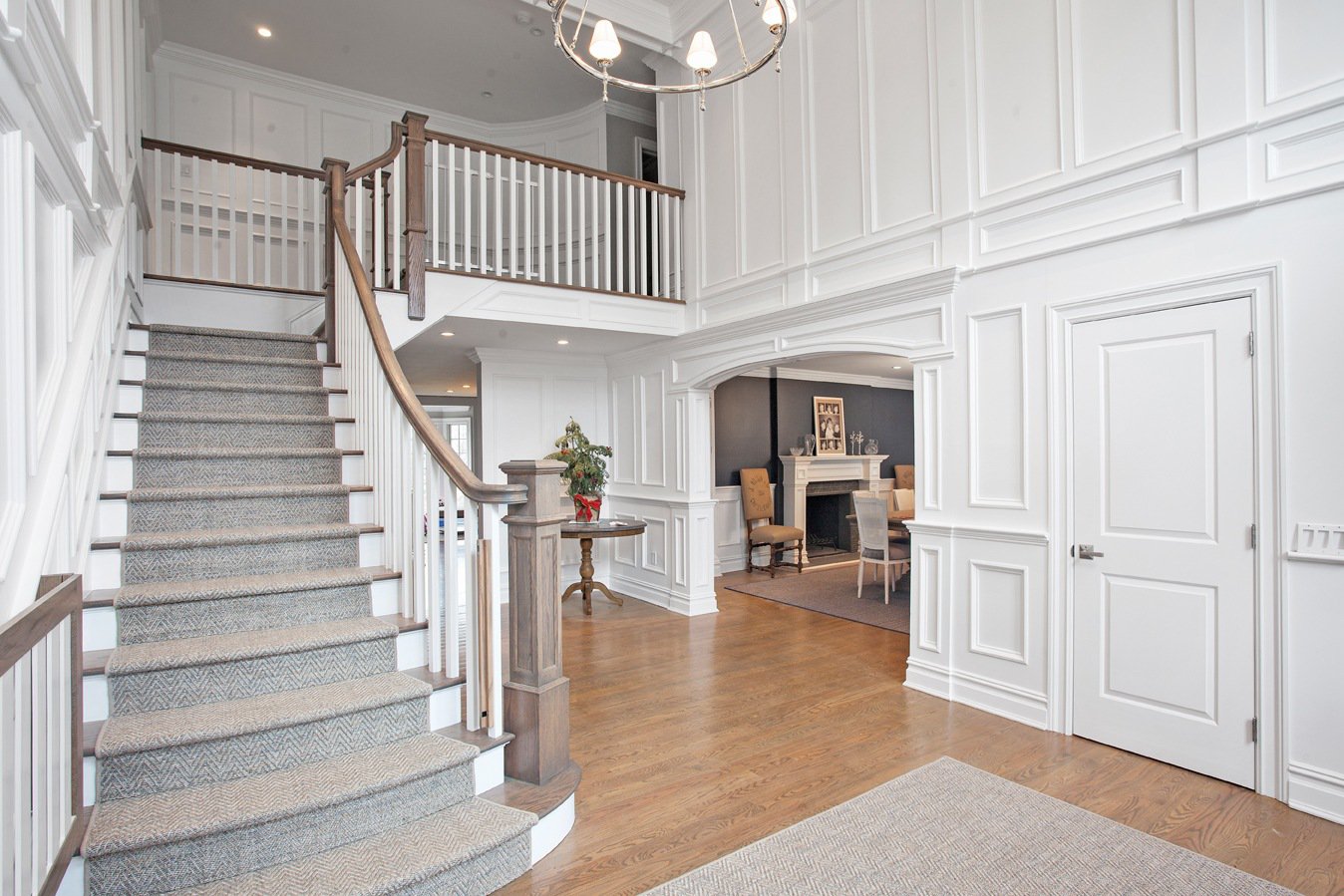 Revival to Remember
Center Island Contracting renews and restores this Sands Point colonial
Since Captain John Sands arrival in 1691 to Cow Neck Peninsula, where the Sands family built their home on 500 acres, Sands Point was and still is a Gold Coast community hosting some of the most beautiful homes on Long Island. This colonial was no different; the potential was there, it just needed "everything" to revive it. Center Island Contracting Inc., was entrusted to renovate the existing 6000 square foot home, design/build a new four car garage with living space above and complete a full hardscape of the exterior with boulder walls, patios, driveway and plantings. The balance of these three phases of work was a tireless effort by Caleb Haniquet, owner of Center Island, and the clients.
From the minute you turn into the winding driveway, a sense of historical serenity surrounds you. A traditional and grand exterior facade with era-appropriate finishes, a carriage-style four car garage and a large courtyard with grand columns welcomes you. Walking into the home, you are greeted with Old World craftsmanship including a coffered ceiling, barrel vaulted ceiling and recessed panels. A simply stunning flared staircase is the result of working with Mike Souto, owner of Deer Park Stairs.
"Not all stairs are created equal," says Caleb, "and remodeling projects take more skill – especially when it comes to fitting in new staircases seamlessly with the old." Through the years of designing, renovating, building new and improving homes, Caleb believes relationships are the most important thing we have. Partnering with Deer Park Stairs and Mike Souto on projects is a 15-year relationship that consistently produces great finished products for his clients.
Taking on an older home and remolding it to fit with today's flow and client's wants is a challenge. "Add some recessed floor systems, some wall jogs and some funky workmanship that was done before you arrived, and now you have a real challenge," remarks Caleb. Reconstructing the flow of the home was accomplished by extending the front foyer to open up the space allowing for a grand staircase with two coat closets and a formal half bathroom. On opposite sides of the foyer, trimmed arches lead to either the dining room or the oversized family room with gas fireplace, which had been the old garage. Through the foyer, guests enter the kitchen's eat-in area which is flooded with natural light from large floor to ceiling windows. Step down to the sunken chef's kitchen with wood burning fireplace and an amazing view of the tiered rear yard with lavish landscape.
The first floor continues with a butler's pantry between the kitchen and dining room. An oversized mud-room off the kitchen has a dog shower, washer dryer and plenty of storage for their growing family. Additionally the rear office and kid's den off kitchen overlooks the entire rear yard and tennis court.
The second floor of this home doesn't disappoint with amazing views of a tiered back yard, a 300 square foot walk-out deck off the master bedroom which is connected to a oversized nursery/bedroom. Eight additional bedrooms, a wash room, six bathrooms and sitting area with access from either the front entry staircase or mud-room staircase completes the upper floor.
Defining spaces, balancing form/function and working with existing conditions to create a flow throughout the first floor was the largest challenge of this project. Caleb relied solely on the relationship he built with this client to ensure their needs, wants, functionality and overall expectations for the home were balanced during this design/build process.
When it comes to exterior hardscapes, grade elevations with severe drop offs, set backs and an existing tennis court 100 feet below grade of the home were just some circumstances that needed a solution. Using boulder walls to create multiple tiers throughout the rear and sides of property converted unusable land into prime real estate with designated uses. Hillside plantings where selected based on hardiness, stabilization of soil and soil conditions typical for the North Shore of Long Island. Multiple patio areas were created; one to overlook the tennis/sports courts, a larger patio to service the lower basement walk-out tier of property and a side patio services the first floor of home right outside kitchen. Oversized blue stone steps were embedded into the hillsides and between tiers to create winding pathways to the various tiers in rear yard. This property not only has character that you don't find in new construction lots, it now has form and function and multiple levels to enjoy. As a bonus, Center Island even created a hillside for sleigh riding in the winter.
From inception to completion Caleb says, "We focus on building relationships; whether it's with our clients or vendors such as Deer Park Stairs, our relationships are what create successful projects." Even though this project had extreme challenges during every phase, years of experience and the relationships Center Island has made and maintains are the key factor to their continued success. This is a Gold Coast revival to remember.